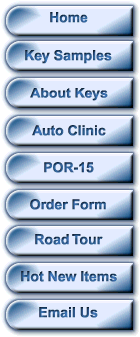 We offer N.O.S. New Old Stock (original) and antique keys for all American cars and trucks from 1900 to date. For the purist, keys can be stamped & cut by code. Lock cylinders, Ignition switches, and complete locksmith services available. Also available our very popular "CLASSIC KEYS"®. They are 10K white gold plated with your cars logo. Key Rings, and yes, even...Fuzzy Dice! We Now Accept PayPal.
Your Friendly Dealer

Complete Line of Restoration Products!